NOVO Asset Management – reporting module for Asset Managers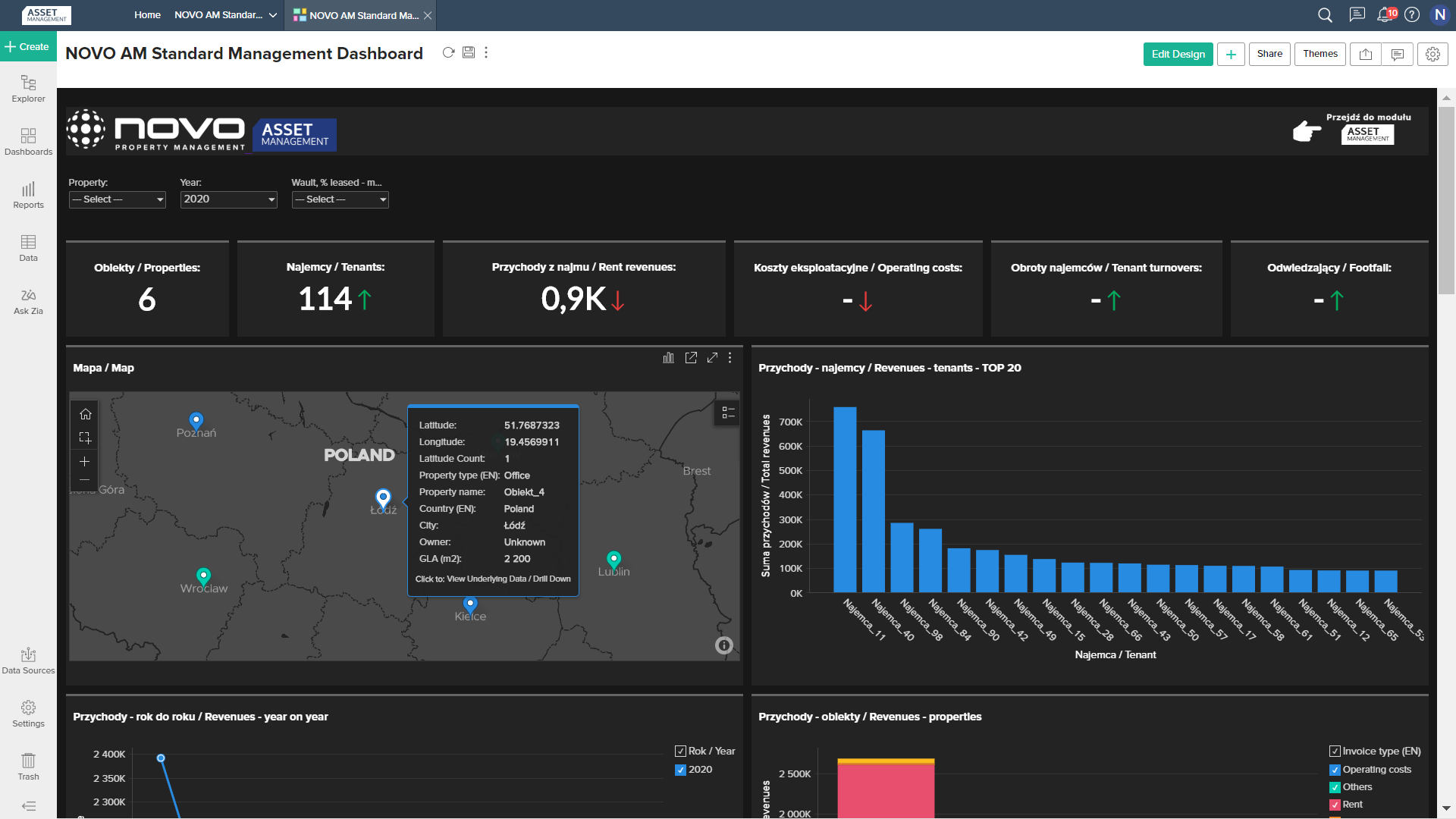 Dear Sirs,
We have just launched our latest product - NOVO Asset Management. This is a reporting module, based on a modern Business Intelligence tool (data warehouse) provided by our partner, available completely online.
As part of NOVO AM module, clients can use standard reports prepared by our experts, as well as create individual reports based on system data stored in NOVO Property Management module.
The new module is directed primarily to asset managers, members of the top management of landlords and companies managing commercial facilities. It will also be helpful for IT and controlling departments responsible for reporting results on the operation of individual properties and portfolios.
The main features of NOVO AM module are:
"drill-down" feature enabling the analysis of virtually every element of the report in various sections and levels of detail,
"preview" of the data that was used to create a report in a form of an Excel spreadsheet,
publication of reports by creating PDFs, sending by email, via external drives, embedding on a website, etc.,
alerting on crtitical dates, performance levels etc.
creating any managerial reports with data tables intuitively grouped by NOVO experts,
the possibility of "connecting" virtually any number of other databases from other systems to the NOVO AM module (eg in addition to NOVO PM, also from financial and accounting systems, footfall platforms, etc.).
We are convinced that everyone who tries to work with NOVO Asset Management will want to have it permanently. We have created this module based on an in-depth analysis of our clients' needs. We knew that it'd be a tool that would significantly reduce the time needed to prepare reports and prepare analyzes. We believe that at a time when the market stopped for almost 2 months and it is not known whether it will return to its pre-pandemic shape, NOVO AM module is needed more than ever. Feel free to contact us - it's worth a try. An intuitive user manual has been also developed for the new module.
And last but not least, thanks to the mobile version, NOVO Asset Management is always at your fingertips via any mobile device.